We provide Apostille Services in ALL 50 states
So what is an apostille?
Apostille is an authentication certification, a stamp. It is designed for use among nations that participate in the Hague Convention. These joint regions are called signatory countries as formed by the Hague Conference on Private International Law. Our San Diego Mobile Notary & Apostille will be glad to answer all of your question about Apostille in San Diego
Getting documents apostilled can be a complex task especially if it is your first encounter with the entire document authentication subject. Our Apostille specialists will review your documents, advice of any required steps on your part and confirm apostille eligibility immediately.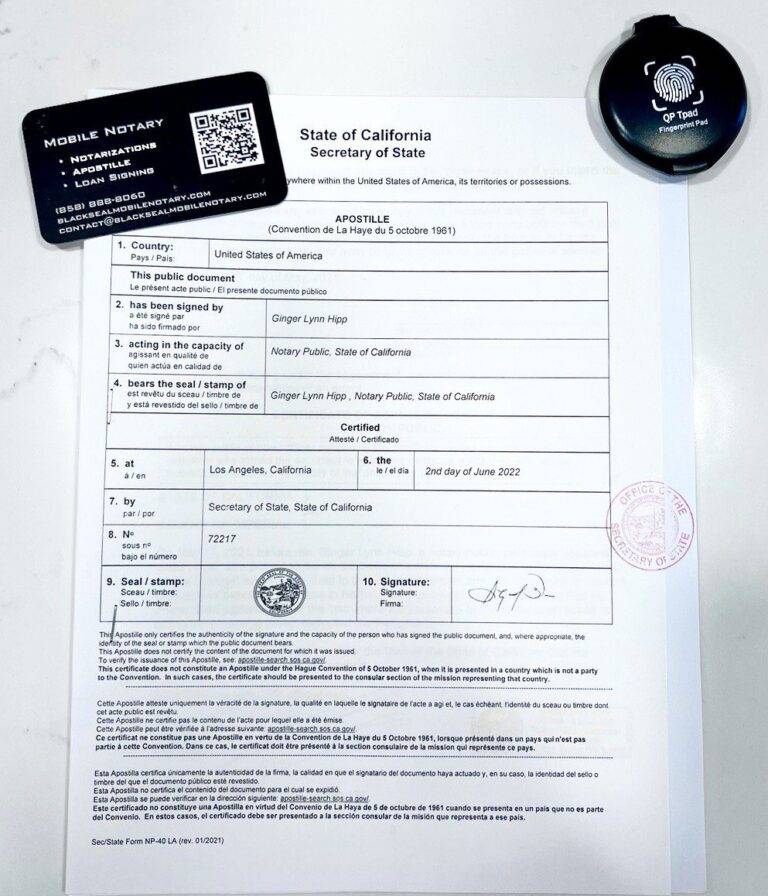 + $95 per any additional document
Get our paperwork done in 3-4 business days
Documents returned to you by trackable package
*rates are subject to change
A
Albania,
Andorra,
Antigua and Barbuda,
Argentina,
Armenia,
Azerbaijan,
Australia,
Austria
B
Bahamas,
Bahrain,
Barbados,
Belarus,
Belgium,
Belize,
Brazil,
Bosnia and Herzegovina,
Botswana,
Brunei Darussalam,
Bulgaria,
Burundi
C
Cape Verde,
Colombia,
Cook Islands,
Costa Rica,
Croatia,
Cyprus,
Czech Republic
D
Denmark,
Dominica,
Dominican Republic
E
Ecuador,
El Salvador,
Estonia
F
Fiji,
Finland,
France
G
Georgia,
Germany,
Greece,
Grenada
H
Honduras,
Hong Kong,
Hungary
I
Iceland,
India,
Ireland,
Israel,
Italy
J
Japan
K
Kazakhstan,
Korea (South),
Kyrgyzstan
L
Latvia,
Lesotho,
Liberia,
Liechtenstein,
Lithuania,
Luxembourg
M
Macao,
Macedonia,
Malawi,
Malta,
Marshall Islands,
Mauritius,
Mexico,
Moldova,
Monaco,
Mongolia,
Montenegro
N
Namibia,
Netherlands,
New Zealand,
Nicaragua,
Niue,
Norway
O
Oman
P
Panama,
Paraguay,
Peru,
Poland,
Portugal
R
Romania,
Russian Federation
S
Saint Kitts and Nevis,
Saint Lucia,
Saint Vincent and the Grenadines,
Sao Tome and Principe,
Samoa,
San Marino,
Serbia,
Seychelles,
Slovakia,
S
Slovenia,
South Africa,
Spain,
Suriname,
Swaziland,
Sweden,
Switzerland
T
Tonga,
Trinidad and Tobago,
Turkey
U
Ukraine,
United Kingdom,
Uruguay,
USA,
Uzbekistan
V
Vanuatu,
Venezuela
[/vc_row]
Apostille Fees
All prices include, door-to-door service, all state fees & shipping.