Carmel Valley Mobile Notary Services at Your Convenience
Looking for a reliable and affordable mobile notary or apostille service in Carmel Valley? Your search ends with Black Seal Mobile Notary. Dial (858) 888-8060 for professional and timely services that cater to all your mobile notary and apostille needs.
Leveraging years of experience, we adeptly navigate the complexities of notary and apostille requirements, guaranteeing trustworthiness and punctuality with every transaction. Our diverse services, encompassing hospital notary, loan signing, and jail notary, are available 24/7 at a fixed rate.
Discover the ease of our mobile notary services and understand why many recommend us. Use the promo code NOTARY13 for a special discount. We are dedicated to delivering exceptional service, simplifying your notarization process and ensuring a smooth, hassle-free experience.
Carmel Valley Mobile Notary
Looking for a reliable "notary near me Carmel Valley" or a dependable San Diego Mobile Notary? Your search ends at Black Seal Mobile Notary. Reach out to us at (858) 888-8060, your trusted notary service in Carmel Valley and the entire San Diego County. We are here to assist you in areas including La Mesa, Del Mar, North Park, and even National City, offering timely and professional services to meet all your mobile notary and Apostille San Diego needs.
With years of experience in Carmel Valley, we have a deep understanding of the region, enabling us to efficiently cater to your notary and apostille requirements. We take our California notary commission seriously, ensuring trustworthiness, professionalism, and punctuality in every transaction. Whether you are in the legal, escrow, mortgage, or administrative industries, or simply can't find the time to leave the office, we are here to help.
At Black Seal, we pride ourselves on offering affordable services without compromising on quality. Our services extend to various document types, including but not limited to Hospital Notary, Loan Signing, and Jail Notary.
We are available 24/7, ready to meet your notarization needs in Carmel Valley at any time. Our attention to detail and transparent pricing will surely impress you. We offer a fixed rate that covers both the travel and service costs, providing a hassle-free experience for our clients.
Choosing a notary public you can trust is crucial, and we at Black Seal are confident in our ability to assist you in even the most potentially stressful situations. Feel free to mention that you found our Carmel Valley mobile notary & apostille services online and use the promo code NOTARY13 for a special discount.
Discover the convenience of a mobile notary available 24/7 in San Diego County. Not many offer round-the-clock services like we do. We invite you to experience our Mobile Notary services firsthand and see why many choose to recommend us to others. If you're searching for a "notary near me" with exceptional service, visit our homepage for more information on services in La Mesa, Del Mar, and National City.
You can reach us by call or text at (858) 888-8060, by email at contact@blacksealmobilenotary.com, or visit us at our office at Black Seal San Diego Mobile Notary & Apostille, 9110 Judicial Dr, San Diego, CA 92122.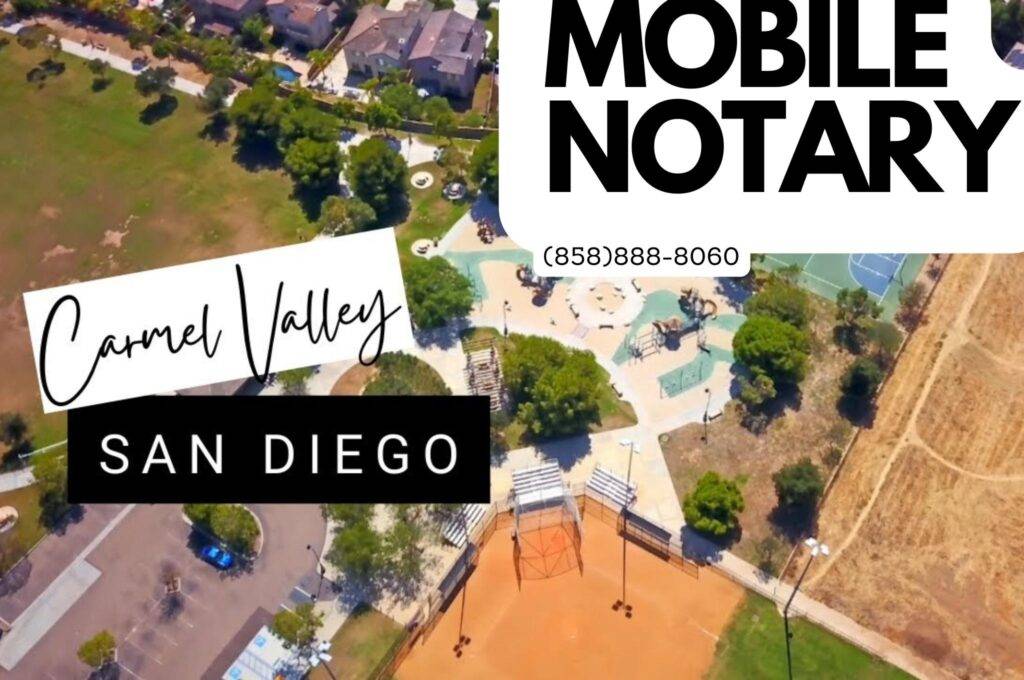 We provide service in all of San Diego county
Email contact@blacksealmobilenotary.com